Founded in 1985 by Betty Provizer Starkman, the Jewish Genealogical Society of Michigan is a leader in education, research, information exchange forums and resources for Jewish genealogy. Most of our events are hosted at the Holocaust Memorial Center in Farmington Hills, Michigan.
We are the proud winner of such prestigious awards as:
Outstanding Programming that Advances Jewish Genealogy
Best Publication for our quarterly newsletter, Generations
Genealogical Research Award for utilizing the most modern techniques for research
Genealogical Library Award for maintaining an independent research library
Membership is available to anyone interested in genealogy. Dues are based on a fiscal year of August 1 to JuIy 31.
We invite you to take a look around, learn about our society and explore all that we have to offer.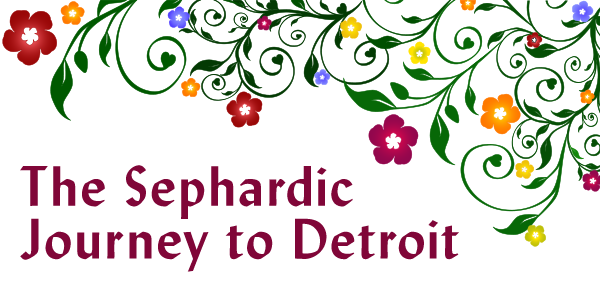 Wednesday, June 21, 2017 at 7:00 PM
Keter Torah Synagogue
5480 Orchard Lake Road in West Bloomfield
Election and Lecture with dessert reception – $18 per person
Introduction by Rabbi Sasson Natan
The Sephardic Culture: History and Background
Main lecture by Mr. Rick Behar (Chicorel)
The Chicorel Family Story and the Sephardic community in Detroit
Proposed Slate
Officers
President: David Goldis
VP, Publicity: Adina Lipsitz
Recording Secretary: Joshua Goldberg
Treasurer: Neil Goldman
Committee Chairs
Librarian: Linda Bell
Library Committee: Ruth Rosenberg and Leah Bisel
Cemetery Project: Marc Manson
Constitution and By-Laws: John Kovacs
Slate Committee: John Kovacs
Speakers Bureau: James Grey
Webmaster: Adina Lipsitz
Members-at-Large: Leah Bisel, Irwin Alpern, David Sloan
If you do not wish to pay via Eventbrite and pay the Eventbrite fee, please email Adina Lipsitz and she will manually add you to the list and you can mail in a check (payable to JGS of Michigan) for $18 per attendee.
---