Founded in 1985 by Betty Provizer Starkman, the Jewish Genealogical Society of Michigan is a leader in education, research, information exchange forums and resources for Jewish genealogy. Most of our events are hosted at the Holocaust Memorial Center in Farmington Hills, Michigan.
We are the proud winner of such prestigious awards as:
Outstanding Programming that Advances Jewish Genealogy
Best Publication for our quarterly newsletter, Generations
Genealogical Research Award for utilizing the most modern techniques for research
Genealogical Library Award for maintaining an independent research library
Membership is available to anyone interested in genealogy. Dues are based on a fiscal year of August 1 to JuIy 31.
We invite you to take a look around, learn about our society and explore all that we have to offer.
Monday, April 28, 2014
5:00 PM
Berman Center for the Performing Arts

Please join us as we sponsor The Upside Down Book at the 16th Annual Lenore Marwil Jewish Film Festival!
USA, 2013, 51 minutes, English
Imagine a book so toxic that rigorous hand-washing is required after coming into contact with it. The book in question is a 1938 copy of Mein Kampf, which Karen and Fred Mandell, parents of filmmaker Hinda Mandell, have for decades kept displayed upside down on their bookshelves.
Fred's uncle—a Jewish-American soldier—brought the book home from Germany at the end of World War II. With nothing but a bare-bones inscription on the inside cover, filmmaker Hinda Mandell investigates the power of family lore as she tracks down the original owners of the Mein Kampf.
The Upside Down Book will be preceded by the short film, Reporting on The Times: The New York Times and the Holocaust:
USA, 2013, 18 minutes, English
Inspired by Laurel Leff's award-winning book Buried by The Times. The New York Times was a Jewish-owned newspaper, but it gave little attention to the Nazi persecution of Jews in the 1930s and '40s and ultimately, ownership at The Times decided to place articles about the Holocaust only on its back pages.
Through interviews with historians and The New York Times journalists, Reporting on the Times encourages audiences to carefully consider the role of journalism, anti-Semitism and America's place as the "Great Liberator."
---
May 4, 2014 at 1:30 PM – confirmed time
Farmington Community Library
32737 W. 12 Mile Rd.
Farmington Hills, MI 48334 (map)
Help Session half hour before (library opens at 1:00 PM)
Presented by Priceless Photo Preservation of Ann Arbor, this is an interactive workshop that helps participants figure out the often confusing world of preserving their family photos, movies and slides. Among other things, you'll learn what digital formats to avoid, how commonly used scrapbooking items actually put your items in danger and how to digitize your mementos properly. Participants are encourage to bring mementos for personal evaluations and consultations.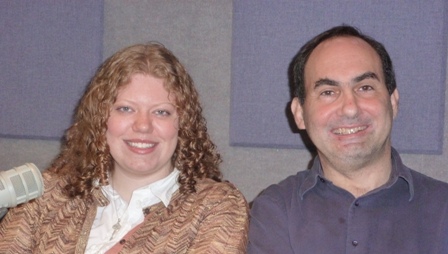 Rob Hoffman is a former professional journalist for the Ann Arbor News who obtained his master's from the University of Michigan's School of Information in 2011. He has worked at the National Baseball Hall of Fame and Museum, where he organized the papers of the hall's primary voting committees, and at the University of Michigan's Bentley Historical Library, where he put together an Ann Arbor subject guide. In addition, his scholarly paper on the success of the Library of Congress' Flickr photo stream has been presented at SAA (Society of American Archivists) conferences nationwide.
Hanna Primeau is a University of Michigan School of Information graduate who received her Masters with a focus on Preservation of Information as well as Archives and Records Management. Her B.A. is in Cultural Anthropology giving her a rounded feel of objects and their cultural worth, something that she brings with her to every job. She has worked in the University of Michigan's Map Library, New York's Paley Center for Media, the University of Michigan's Preservation and Conservation lab repairing and rehousing atlases and maps, and the Smithsonian Institution's Archive helping to safely store and record the Pullman Train-car glass plate negative collection.
---